While you are in Bangkok, you can buy Thai Tribal Crafts (TTC) products at the Bangkok Christian Guest House.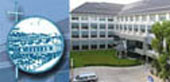 More Info | Contact


You can also buy Thai Tribal Crafts (TTC) products atthe LOFTY BAMBOO, Khao San Road.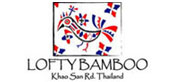 More Info | Contact
Exchange Rate
Certified Member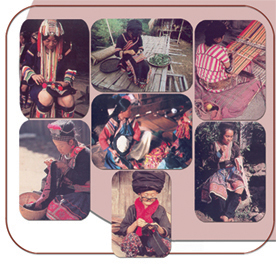 Background of the Thai Tribal Crafts :
Thai Tribal Crafts (TTC), established in 1973, is an agency sponsored by the Christian Service Foundation (Baptist) and registered in Chiang Mai in the name of "Thai Tribal Crafts". The main objective of TTC is to provide opportunities for improving the quality of life of the tribal people in the Northern Thailand.

We have over 25 years of experience of exporting to many commercial and fair trade organizations in the USA, Europe, Scandinavia, Australia, Japan and Asia.

Thai Tribal Crafts has become a legal membership of International Federation for Alternative Trade (IFAT) since 17 May 2002.


Please [click here] for the Story of Thai Tribal Crafts. Written by Elaine T. Lewis (One of the original TTC founder).

OUR VISION :
The vision of Thai Tribal crafts is to trade as a Fair Trading Organization through providing development opportunities for the tribal peoples of Northern Thailand so that they can have a better life. In all we do, our aim is to show the love and mercy of God.


OUR MISSION :

1. To be a non-profit marketing agency of tribal handicrafts in both the domestic and overseas markets.

2. To be a Fair Trade Organization by treating both producers and customers in a fair way.

3. To help lift the economic level of the tribal people of Thailand.

4. To practice fair trade and to show justice, so that both customers and producers are satisfied.

5. To help tribal people to be able to preserve their traditional crafts and arts.

6. To encourage and promote the appropriate church activities.


THE PRODUCERS :


Seven Hill tribes of Northern Thailand are involved in the project: the Akha, Hmong, Karen, Lahu, Lawa, Lisu and Mien groups, as well as many women working in Chiang Mai. All these craftsmen can be divided into three groups:


1). Producers of finished items

They are skilled in producing one type of items, mostly jewelry, baskets or musical instruments. Mien men for example are very skilled in working with silver, whereas some Lahu are specialized in items from bamboo like baskets.


2). Producers of raw materials

They can be divided into two groups:

- Weavers : These are mostly Lahu and Karen people, and particularly women, who are skilled in back-strap loom weaving.


- Producers of embroidery, applique, patchwork : The Lisu, Hmong, Mien, Lahu and Akha tribes are specialized in this production.


This group gathers the majority of the producers, with about 50 villages.



3). Final producers : This group corresponds to at least 30 women, who work in Chiang Mai, at home. They are trained by TTC staff. They assemble the raw materials done in the villages or bought in the market, in order to produce finished items like clothes, bags, household and furnishing textiles.


FAIR TRADE :


We operate under the principle of fair trade: the main goal is to pay the producers the highest price as possible and sell the products at a price that is just adequate to meet expenses. Any financial gain realized beyond the basic needs goes back to the tribal people in the form of benefits. Our trade is based on equality and fairness.



OUR PRINCIPLES :


Thai Tribal Crafts is a Fair Trade Organization advocating and promoting Fair Trade to improve the livelihood of tribal people in Northern Thailand. As a member of the International Federation for Alternative Trade (IFAT), we try the best of our ability to practice and implement, the code of practice detailed below.

- Commitment to fair trade

- Transparency

- Ethical issues

- Equal employment opportunities

- Concern for the environment

- Respect for producerís cultural identity

- Education and advocacy

- Improving working conditions

- Concern for people


OUR PRODUCTS :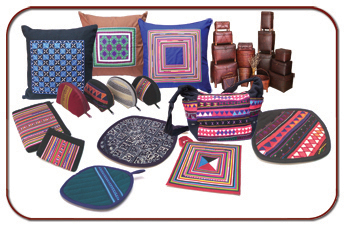 All of the products in the TTC Website have been produced by the six major hill tribe gourps living in Northern Thailand.

Our Design and Product Development (DPD) takes great care to check the quality control of products and environmental effect. We also check the raw materials for our fabric products such as threads for weaving, lining cloths for finished products etc...that our artisans get from local market.The products we are carrying include traditional design as well as modified items made by our trained tribal women as follows :
BAGS : Our bags use traditional tribal & contemporary ethnic designs.
TRAVEL ACCESSORIES : Our range of travel accessories are both fun and functional. The range includes wallets, passport holders, money belts, bum bags and overnight bags.
HOME LIVING : Our home living ranges are an eclectic mix of both traditional tribal and contemporary ethnic. Products include cushion covers, throws, bed covers, bean bag covers and a selection of table top textile items.
CLOTHING : Our clothing ranges reflect their tribal origins in a fusion of traditional patterns and classic styling. We carry a comprehensive range of vests for both men and women.
SMALL ACCESSORIES : We carry an extensive range of small accessories which includes wallets, key cases, spectacle cases, coin purses, cosmetic and toiletry bags, lipstick holders, wrist purses and many other custom items.
BASKETRY : We carry a specialized range of traditional bamboo basketry. The giant Karen Bamboo Dome basket which is traditionally used for storage is popular.
CHRISTMAS TRIMS : Celebrate Christmas with our unique selection of Christmas textile products, particularly our Christmas table top items such as table runners, place mats and napkin sets and coasters. Other Christmas items include : wall hangings, stockings in different sizes and tree skirts.
MUSICAL INSTRUMENTS : Music is still very much part of traditional tribal village life. We promote a range of these traditional musical instruments which include Mien and Karen drums, Lisu lute and flute, Karen harp and guitar, Lahu naw (wind instrument) and Lahu and Akha bamboo mouth harps.
JEWELRY : Ornamentation is very much a part of traditional tribal culture. Using traditional imagery we offer a unique range of handcrafted silver jewelry.